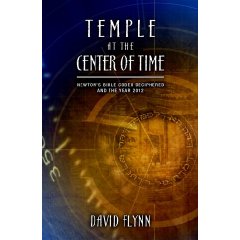 SIR ISAAC NEWTON apparently devoted his life to much more than the basic laws of physics. According to David Flynn, author of the new book Temple at the Center of Time: Newton's Bible Codex Finally Deciphered and the Year 2012
, Newton was very close to finding an amazing mathematical key to end times prophecy.
Quoting from Sharon's review:
In Temple at the Center of Time, Flynn follows the trail left by Newton and others who sought the prisca sapientia or 'ancient widsom' of men like Plato, Pythagoras, and King Solomon. This isn't a wizard's hunt for the Philosopher's Stone — far from it. It's so much more — a journey to unlock the quantifiable definitions inherent within God's ordered universe. There is no hocus pocus here, only sound logic and reproducible mathematics.
Oh, yes, and David may also have found the location of the lost Ark of the Covenant.
As is always the case when we talk with David Flynn, prepare for an hour that will change the way you view the Bible and prophecy.
Topics/links:
Note: P.I.D. Radio is part of the Revelations Radio Network, a collection of like minded Internet broadcasters. You'll find all the shows collected at www.RevelationsRadioNetwork.com.
Click arrow on the player below to listen now, or right-click (control-click for Macs) the "download" link to save the mp3 file to your computer.
David Flynn: Temple at the Center of Time
[ 1:00:00 ]
Play Now
|
Play in Popup
|
Download